Andy's book entitled Change Your Day, Not Your Life was featured on Success's Magazine's Book Summary website. The editors did a fantastic job of getting to the Core of the book. To find out more information on the review or success magazine please visit the following sites. www.success.com and www.successbooksummaries.com
BOOK REVIEW BY THE EDITORS OF SUCCESS MAGAZINE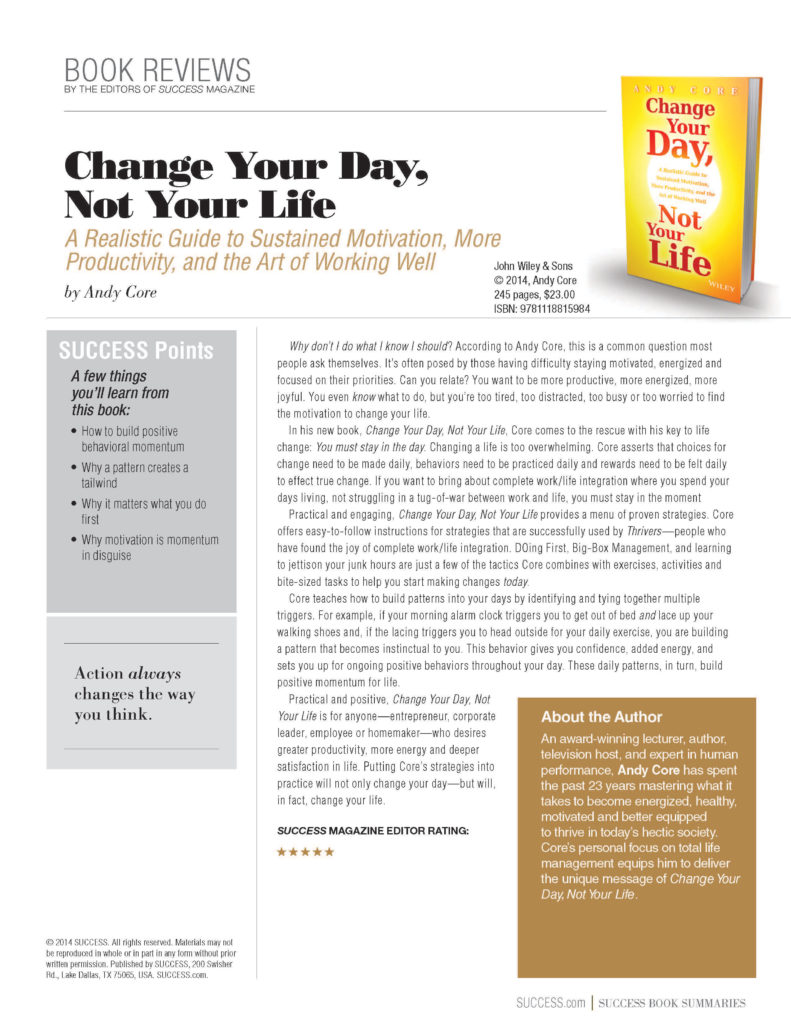 Change Your Day, Not Your Life Five of Five Stars – A Realistic Guide to Sustained Motivation, More Productivity, and the Art of Working Well
by Andy Core (John Wiley & Sons, © 2014, Andy Core, 245 pages, $23.00, ISBN: 9781118815984)
A few things you'll learn from this book:
How to build positive behavioral momentum
Why a pattern creates a tailwind
Why it matters what you do first
Why motivation is momentum in disguise
Why don't I do what I know I should?
According to Andy Core, this is a common question most people ask themselves. It's often posed by those having difficulty staying motivated, energized and focused on their priorities. Can you relate? You want to be more productive, more energized, more joyful. You even know what to do, but you're too tired, too distracted, too busy or too worried to find the motivation to change your life.
In his new book, Change Your Day, Not Your Life, Core comes to the rescue with his key to life change: You must stay in the day. Changing a life is too overwhelming. Core asserts that choices for change need to be made daily, behaviors need to be practiced daily and rewards need to be felt daily to effect true change. If you want to bring about complete work/life integration where you spend your days living, not struggling in a tug-of-war between work and life, you must stay in the moment
Practical and engaging, Change Your Day, Not Your Life provides a menu of proven strategies. Core offers easy-to-follow instructions for strategies that are successfully used by Thrivers—people who have found the joy of complete work/life integration. DOing First, Big-Box Management, and learning to jettison your junk hours are just a few of the tactics Core combines with exercises, activities and bite-sized tasks to help you start making changes today.
Core teaches how to build patterns into your days by identifying and tying together multiple triggers. For example, if your morning alarm clock triggers you to get out of bed and lace up your walking shoes and, if the lacing triggers you to head outside for your daily exercise, you are building a pattern that becomes instinctual to you. This behavior gives you confidence, added energy, and sets you up for ongoing positive behaviors throughout your day. These daily patterns, in turn, build positive momentum for life.
Practical and positive, Change Your Day, Not Your Life is for anyone—entrepreneur, corporate leader, employee or homemaker—who desires greater productivity, more energy and deeper satisfaction in life. Putting Core's strategies into practice will not only change your day—but will, in fact, change your life.
About the Author
An award-winning lecturer, author, television host, and expert in human performance, Andy Core has spent the past 23 years mastering what it takes to become energized, healthy, motivated and better equipped to thrive in today's hectic society. Core's personal focus on total life management equips him to deliver the unique message of Change Your Day, Not Your Life.
Action always changes the way you think.
© 2014 SUCCESS. All rights reserved. Materials may not be reproduced in whole or in part in any form without prior written permission. Published by SUCCESS, 200 Swisher Rd., Lake Dallas, TX 75065, USA. SUCCESS.com.